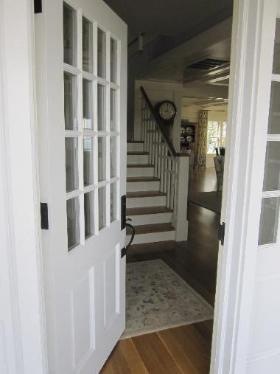 Robert J. Keller
Custom Woodworking & Specialty Contracting
1708 Snyder Avenue
Belmar, New Jersey 07719
Home 732-681-6913
Cell 732-233-2553

Michael V. Mack
Woodworker
805 Prospect Avenue
Spring Lake Hts., New Jersey 07762
Home 732-974-1723
Cell 732-673-4111



Thank you for visiting our Internet site. We'll use this site to introduce the spectrum of our work and to give you the opportunity to stay in touch with our projects.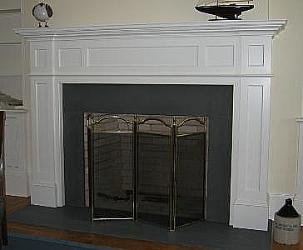 With a combine 75 years of woodworking experience, we offer quality work and honest service within the Jersey Shore area. Solid wood doors and front entrances, curved millwork, mantels, and fitted cabinetry are some of our specialties.

We invite you to explore the site and our work. We also invite you to contact us to discuss a project, or to see more of our work. Your can also contact us at our e-mail address: woodmack1@mvmack.com



A project's design can come about in a variety of ways. Sometimes we are given designs with a completed set of professional drawings. Sometimes it is nothing more than a rough sketch or an idea from a magazine.

We can take ideas from homeowners or designers and provide scaled drawings of a proposed project. Scaled drawings are a valuable tool in communicating a design. They are a true representation of the space involved and can indicate whether a design will work or not.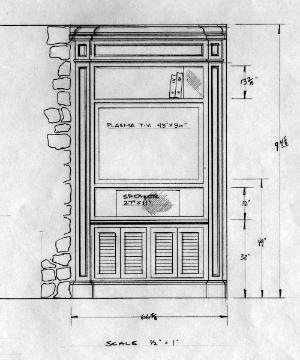 An elevation drawing is often enough to represent the intended cabinet in the considered space. Along with a full size layout stick, scaled drawings offer an almost infallible method in the design process.
This scaled drawing was done to illustrate our intentions for a pair of fitted cabinets on either sides of a stone fireplace. We worked with a designer on this job and created the drawing to show her ideas to scale and in a functional layout. The photo below shows the finished cabinetry.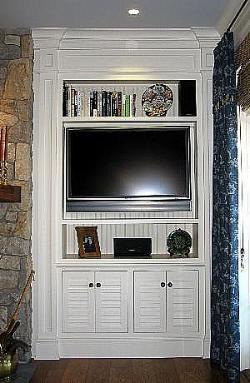 One of two fitted cabinets on either side of a stone fireplace. Each had to be scribed to the irregular shapes of the stone masonry. For fitted cabinets such as these, the final painting is done after installation.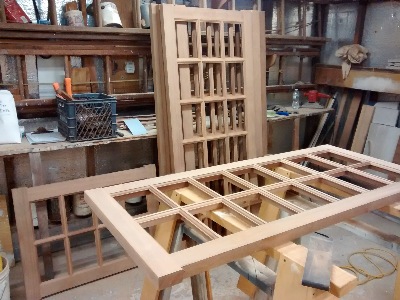 A group of seven large replacement sash assembled and sanded. Ready for priming, glass and then installation.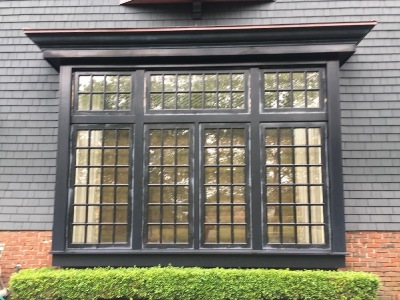 The sash installed. Three upper transom sash are fixed. The four lower ones are operable.

Ready to be finished painted.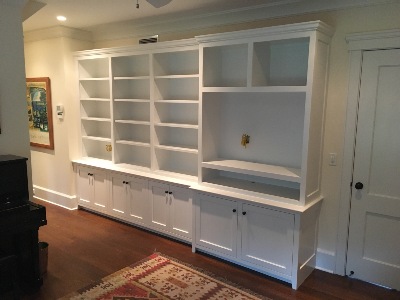 A recent cabinet finished a ready for use.

http://www.ikekligermanbarkley.com/posts/Catskills
Link to a gorgeous house we were fortunate enough to build the front entrance and exterior doors for. All were dutch doors.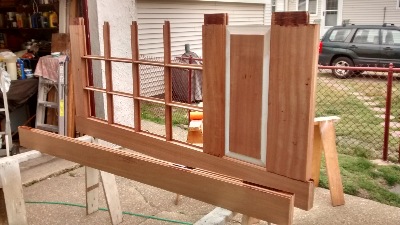 Assembly of a door. Mortised and tenon with epoxy as an exterior adhesive.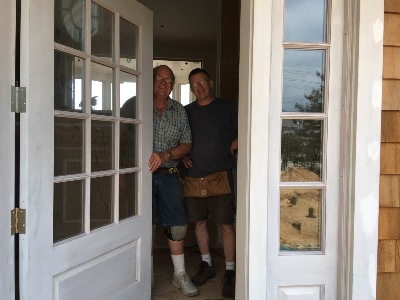 Installing the entrance.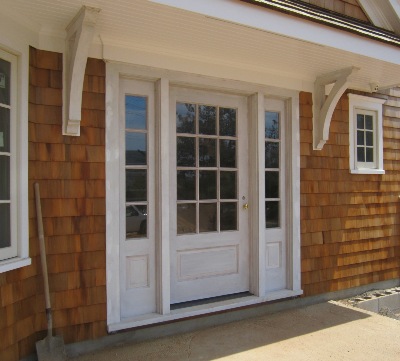 Entrance installed. Ready for finish painting and locksets.